Interview with Sales Director Jorge Ramirez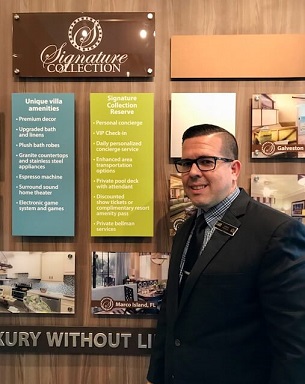 Name: Jorge Ramirez
Job Title: Director of Sales Action Line Region 1
Department: Sales
Length at Company: 10 years
How did you end up with a leadership position at Holiday Inn Club Vacations? I was working for a competitor and was looking for more. I was told by someone who mentored me in the industry that Orange Lake was possibly looking for a Sales Manager. I did not know much about Orange Lake so I did some quick research, and decided to come in and figure out whose door I had to knock on. I came in on Tuesday; however, when I came in the current Director of Sales was off that day. So I spoke to another manager, found out when he would be back in the office and came back in to speak to him. He interviewed me that day and put me through to a panel. I was a Sales Manager for seven years before I was promoted to DOS.
What motivates you to do well in your job? I have been blessed to do what I love to do, so fortunately I have not worked a day in the last 10 years.
What is the best part of your job that you wouldn't find in the job description? There are never two days alike. Every day there is a new set of challenges and obstacles to overcome, from coaching and developing to strategizing with my managers to solve specific problems. I love what I do every day.
What is it that makes Holiday Inn Club Vacations unique compared to other companies within the industry? Our tenured leadership is what makes the biggest impact in our success. They understand Timeshare.
What are some of the core values you follow at HCV? Many years ago while in the Marine Corps, I learned some key core values that I have carried with me throughout life and my career: honor, courage and commitment. I try to use those three values as my compass through life and career. I make sure that I treat everyone with dignity and respect. I make sure we all feel as if we play an important role in our success.
What's one piece of career advice you'd like to share with potential candidates? Hard work will always beat talent. If you need to come in two hours earlier and leave two hours later than anyone else, then that's what needs to be done. Success is not unintentional. Success is not easy; it takes everything you have all the time. Don't do it for the money or the title. Do it because leading and mentoring and managing and solving problems is what you love to do.